The use of digital planning tools for banquet management can be one of the best ways to create stronger, more open communication. 
Allseated helps vendors and planners to easily collaborate on banquet room layout, floorplans, seating arrangements, and much more. 
The banquet management tools provided by Allseated helps to keep everyone operating on the same page for an event, so there are no surprises. And, planners and venues are both able to share their unique skills and perspectives using the banquet room layout planner tools which help the team to collaborate on the best way to achieve the event goals.
Allseated Banquet Management Tools
When using Allseated's banquet management tools, you will truly experience the value, operational efficiency, and ROI for event planning! 
Give your entire team access to the benefits of collaborative planning and operational efficiency while providing an organized digital working environment for planning events.
Invite clients to collaborate on their event as well as the vendor team to further keep everyone operating on the same page regarding all details related to the event.
Design Event Layouts To-Scale
Event organizers and planners are consistently asking the question, "How will my banquet room layout look on the day of the event within this specific venue layout?" 
For this reason alone, it's critical for venues today to provide a collaborative way to work with event organizers and planners on their banquet room layout ideas so that they can view in both 2D and 3D, take virtual tours of the layout, and stay up to date in realtime on their events.
Allseated's banquet room layout planner tools make the process of designing floorplan layouts to-scale efficient and simple. 
With one in every ten events created within the Allseated platform, it's easy to locate the floorplan template for your venue in our system.
 In the event that you cannot locate the venue's floorplan template, you can provide us with a floorplan marked with at least one accurate dimension, and our team will scale and upload it in AllSeated.
With access to Allseated's extensive furniture library, easily select from a variety of tables, chairs, objects, and furniture, available in various shapes and styles to meet all event floorplan needs for the banquet room layout. 
The banquet layout planner tools allow you to place and move the tables, objects, and furniture around the floorplan as well as:
Customize the spacing between tables

Join tables and/or knock off chairs

Save floorplan templates for future events

Include spacing for dance floors and entertainment areas

Mark exits within the layout

List any planning details and/or notes directly within the floorplan

Save favorite objects and templates for future layouts

Create custom groups and save to favorites

Upload files (including JPG, PNG, PDF) to floorplan

Utilize

Physical Distance Tool

To Meet Distance Guidelines
Learn even more about Allseated's floorplan design tools and features in this article!
While designing the floorplan, easily switch from 2D viewing into 3D, giving you a virtual walk through of the floorplan. With bird's eye 3D viewing, see your floorplan from an above view. 
Alternatively, you can also walk through the layout via 1st person 3D view too. Utilizing 2D and 3D viewing help to ensure that you're 100% satisfied with the layout in advance of the event.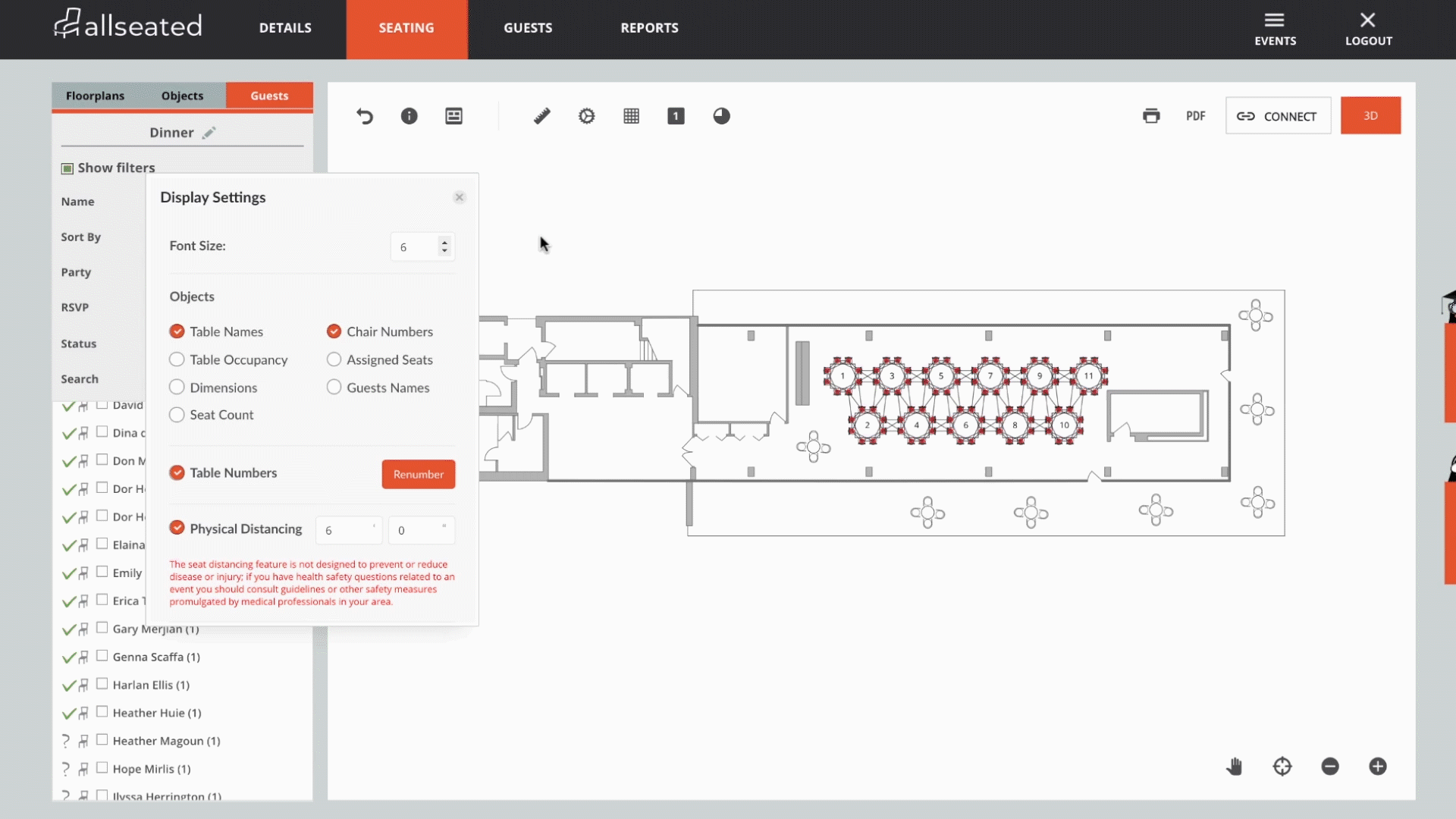 Tabletop Designer Tools
As part of the banquet room layout planner, Allseated's event tabletop designer tools allow you to build tabletop and buffet displays to-scale within your floorplans. Here's a quick video to learn more!
The Allseated designer tools show you exactly what can fit to-scale on tabletops which means no more guesswork! Tabletop items currently include place settings, centerpieces, linens, and buffet pieces, with many more objects to come soon.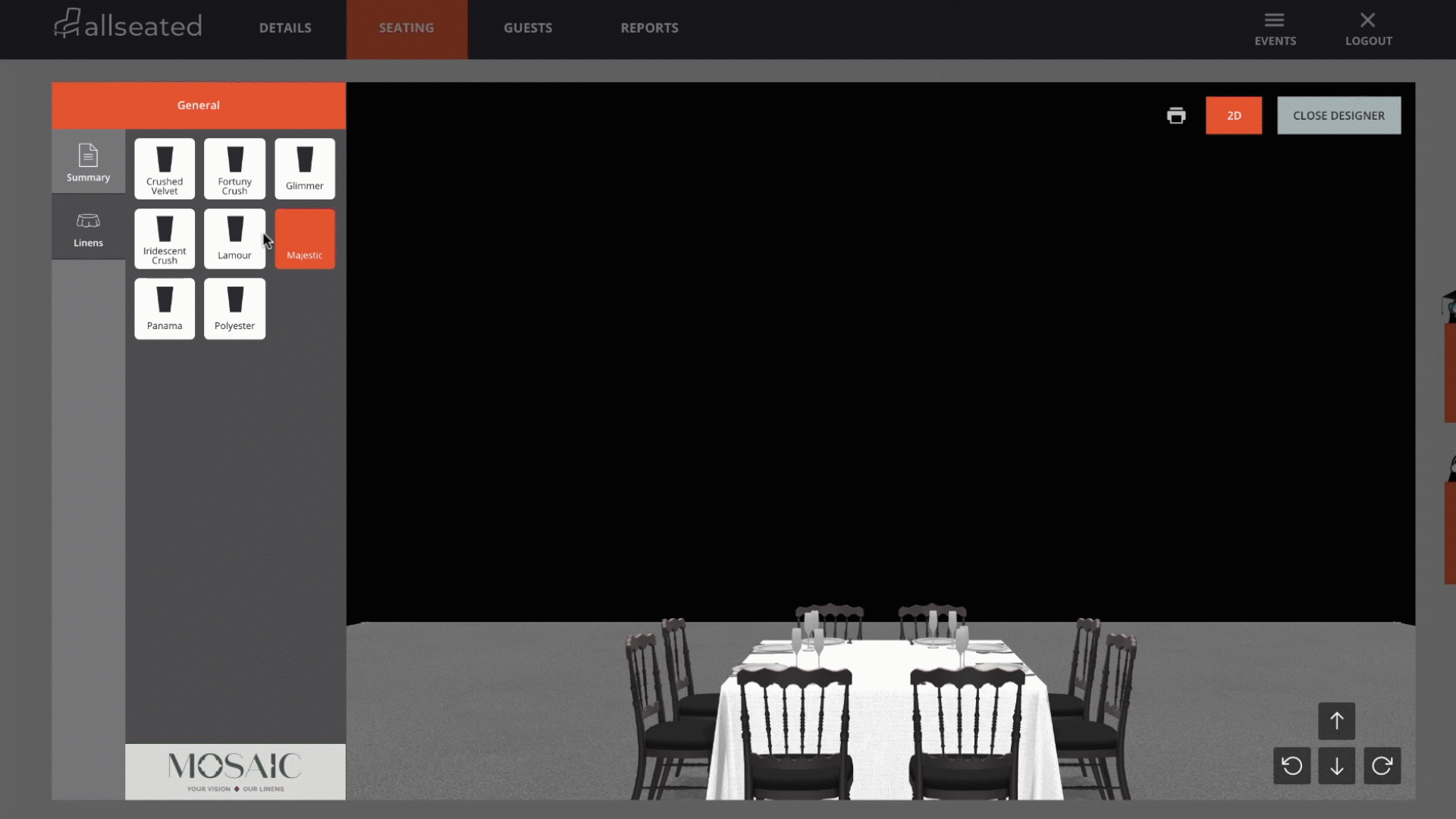 Manage Event Guest List  
Allseated's banquet room layout planner tools also include the opportunity for guest list management. The features of Allseated's guest list provide added value and is a tremendous product for guest organization. 
Guest information (including names with mailing addresses) can be stored alphabetically or filtered into categories for even more organization. Keep notes, list meal type information, track RSVP's, and run guest list reports in real time.
Design Event Seating Charts 
Allseated's guest list links directly to seating allowing you to create the seating chart for a floorplan. Guests can be seated at tables within the floorplan with the option to seat guests at specific seats at each table too, if desired.
Create & Manage Event Timelines 
Allseated provides the easiest and most effective way to collaborate throughout the event planning process. Create multiple timelines for an event and view them side by side for added organization. Involving your vendor team within an vendor timelines will assist everyone involved on the event to better understand each vendor's roles and their set up needs and timing. 
With all timeline information updated in real time, the use of a vendor timeline truly reduces the chance of error while providing reassurance that all tasks are outlined and understood by your vendor team.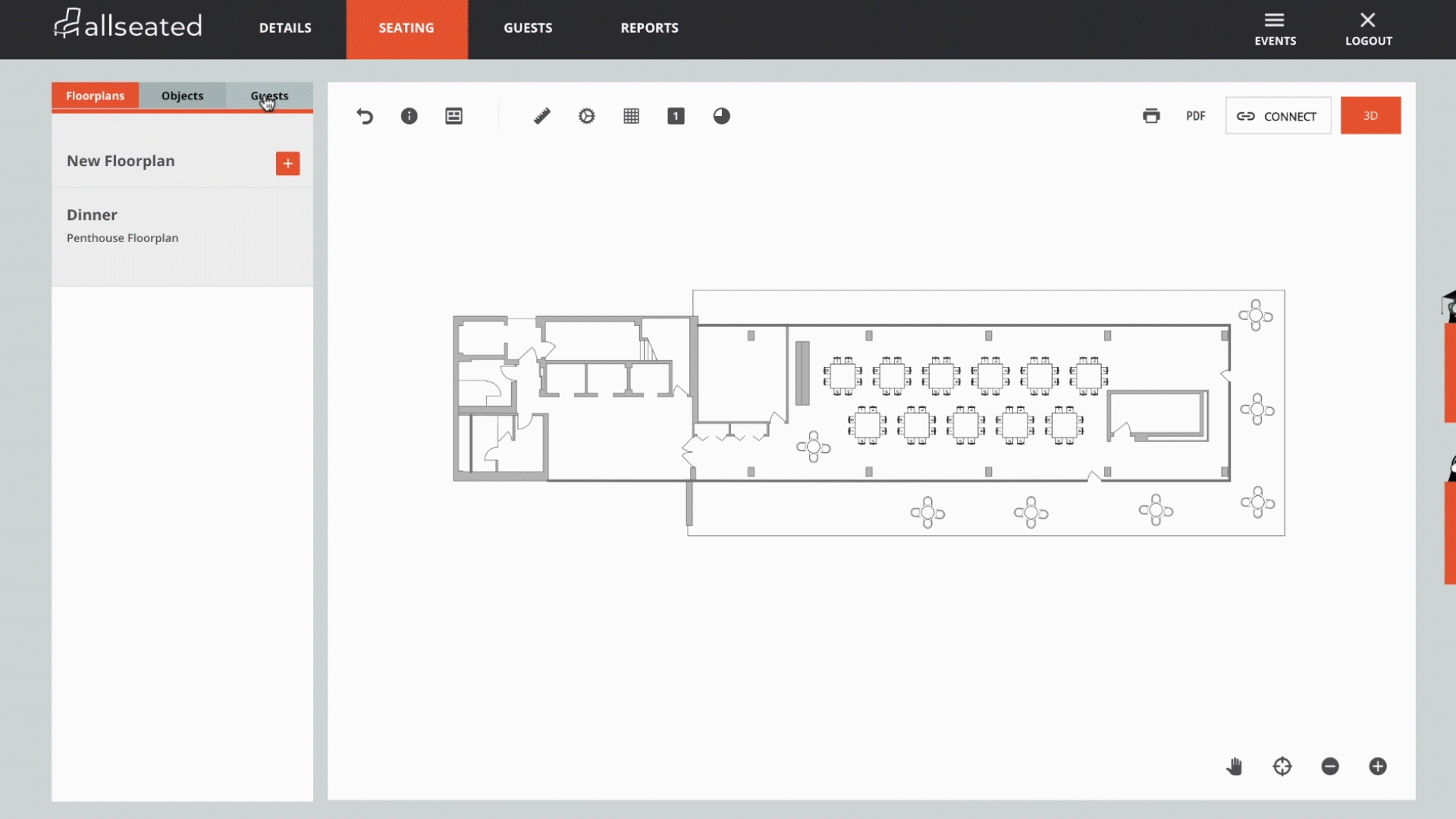 Generate Useful Reports 
Easily generate many useful reports for events as well. Floorplan and guest list reports can be generated and filtered according to your needs and the needs of your vendor teams.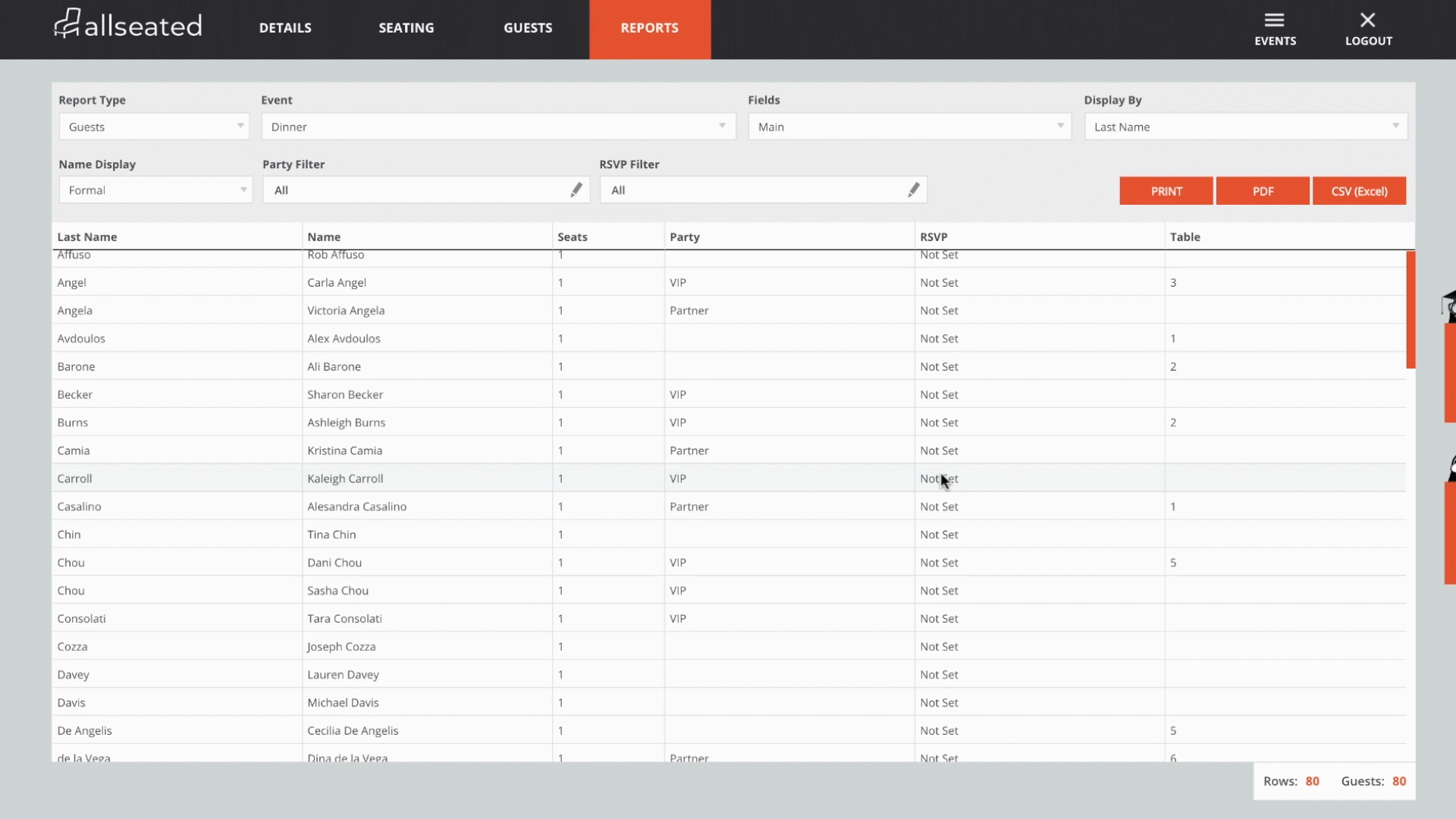 Manage Permissions
You always have the option to manage permission settings within an event. This means that you can collaborate with your vendors and clients but maintain control of what can be edited.
Allseated Virtual Reality Technology
Event venues are realizing that tech tools like 3D floorplans and the use of virtual reality greatly accelerate the sales process and reduce the need for repeated site visits or inspections. As Corbin Ball, event and trade show technology analyst said, "When used properly, the immersive realism of a VR site inspection of a hotel or a destination can be the next best thing to being there."
With digital dominating every aspect of a typical sales cycle, especially in the meetings and events industry, these are critical tools venues need to close a deals, even without ever meeting face-to-face.
With Allseated Vision, venues can offer immersive virtual walkthroughs of event spaces, allowing clients to experience lifelike visualizations of their desired event setup. Allseated Vision makes it easy to sell your venue's potential, eliminates the need for on-site inspections, and allows venues to close new business from anywhere in the world.
Learn more about Allseated Vision and what it includes for venues in this article!
FAQ