When looking for event planning software, there are many benefits to using Allseated's event planner software to meet your planning needs.
Some essential benefits of using Allseated's event planning software when planning events include:
Ability to design floorplans to-scale

2D/3D floorplan viewing with virtual walkthrough capabilities

Arrange seating charts

Easily manage event guest list

Utilize virtual designer tools for tabletops and buffets

Generate reports

Manage timelines

Virtual Reality allows venues to sell remotely

Book new business without onsite meetings

Plan virtually with clients

Virtually tour event spaces and layouts from anywhere

Collaborate in realtime

Increase ROI and improve operational efficiency
Allseated's event planning software and event design tools make it easy and efficient to work with clients to design floorplans to scale, view in 2D and 3D, manage guest lists, arrange seating, virtually design tabletops, and take virtual walkthroughs of layouts to eliminate the need for onsite meetings.
Event Floorplans
A major benefit to designing wedding and event floorplans using Allseated's 3D floorplan software is the ability to view layouts in 2D and 3D. At any time during the online floorplan design process, easily, it's easy to switch from 2D viewing to 3D viewing to take a virtual walkthrough of the layout. The 3D viewing options include Bird's Eye viewing o which allows you to see your event floorplan in 3D from an above view. It's also possible to virtually walk through the online floorplan layout in 3D via 1st Person View as if you were taking a virtual walkthrough of your event floorplan layout. The many varieties of 3D floorplan viewing options help to ensure that you're 100% satisfied with the layout during the design process. This makes the day of the event seamless, accurate, and in line with your event vision.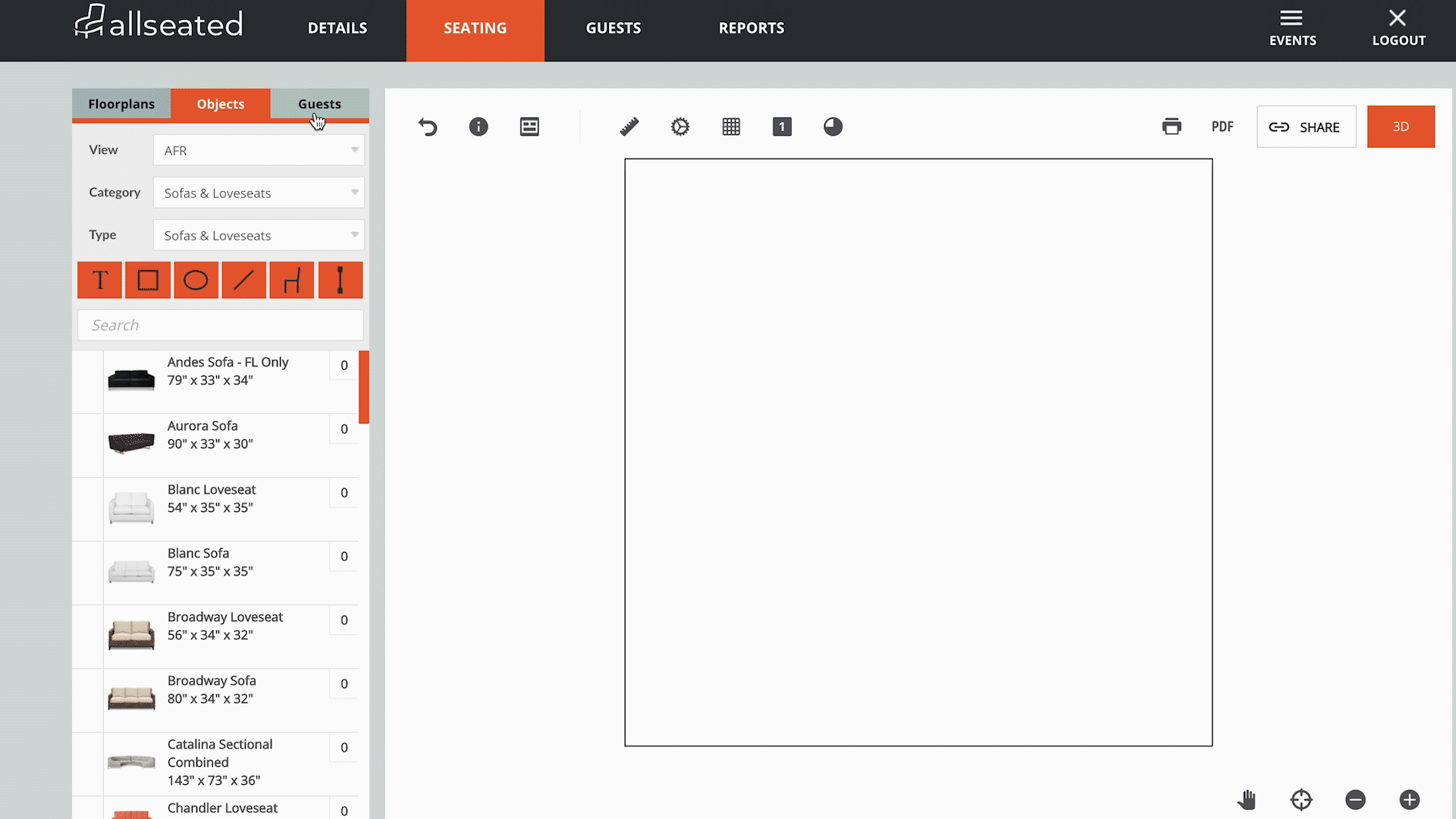 Shareable Link to Floorplan
With a shareable link that is easily generated from a floorplan, you are able to send the event floorplan to someone without having them listed as a user for the event. This allows them to view the 2D/3D layout and move around the room without ability to make any changes.
Objects Library
In addition to a vast standard object library (including a wide range of tables and chairs based upon the industry standards), Allseated also has several furniture rental partnerships. The furniture partnerships include the two largest national rental companies, AFR and CORT. This allows users to choose from a large selection of event furniture items when designing their event floorplans online. All event furniture renders beautifully in 3D.
Allseated Physical Distance Tool
Allseated has launched a revolutionary new technology that enables the creation of social distance floorplans providing the Events Industry with a path to safely reopen as COVID-19 restrictions are eased. This physical distance tool for event floorplans allows planners, venues and other event stakeholders to plan event layouts incorporating new social-distancing guidelines, and dynamically ascertain new room capacities, ingress and egress, and foodservice protocols while ensuring the safety of event guests and staff as paramount.
With Allseated's Physical Distancing Tool, you can:
Give clients confidence by designing floorplans with guest and staff safety at forefront
Create layouts to meet distancing guidelines to run a safe distance event.
Visualize the event floorplan with distancing in place.
Better understand how new guidelines will affect capacity.
The Physical Distance Tool was recently featured during a segment with NBC News NOW to discuss how Allseated's event technology is assisting wedding venues, planners, and clients open back up and get back to planning events safely.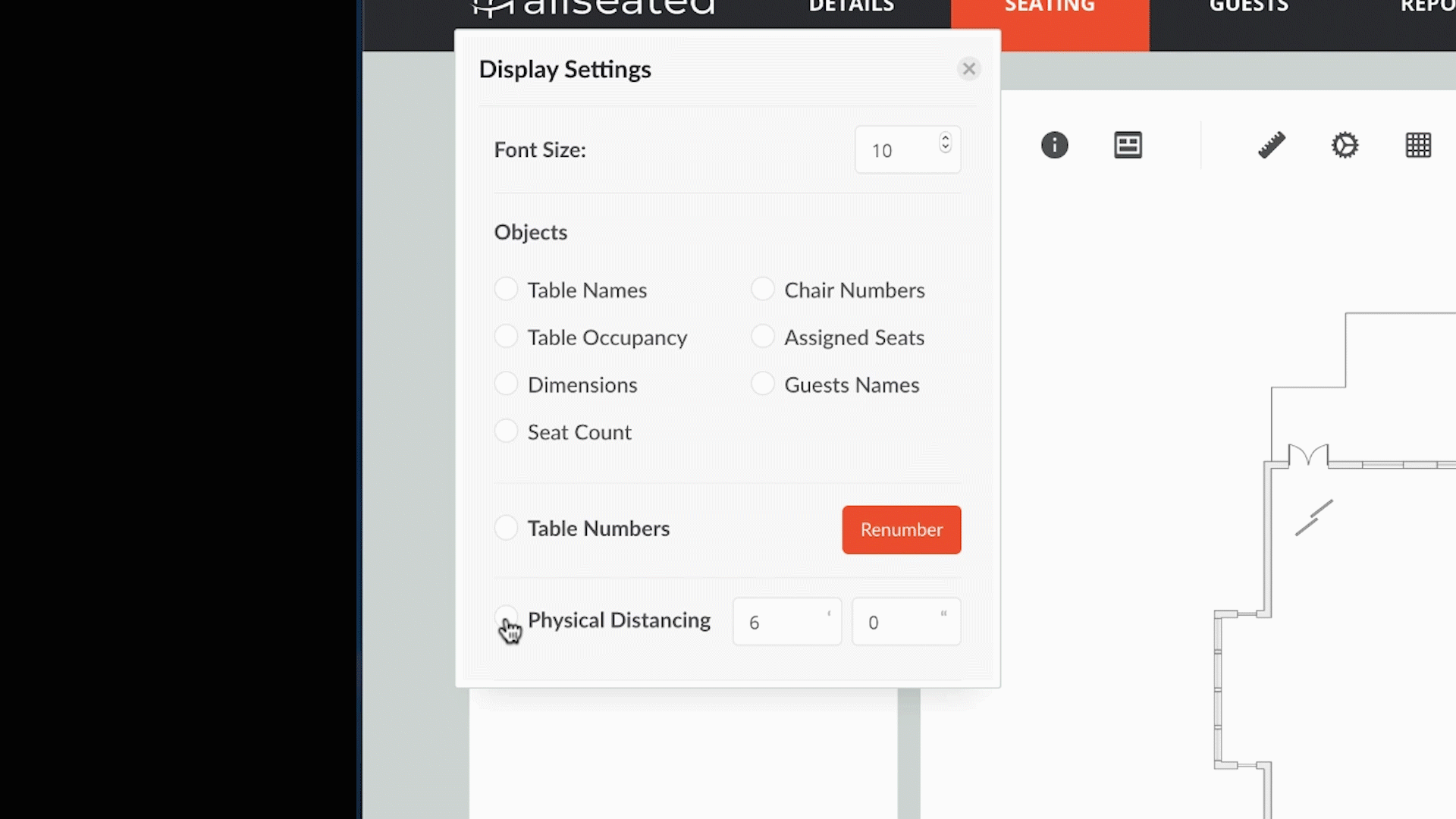 Seating Charts & Guest Lists
Benefits of Allseated Vision For Venues
Offer Virtual Venue and Event Space Tours
Venues using Allseated Vision can offer clients a fully immersive 360-degree experience of a venue space. Venues are scanned and modeled in 3D to create a photorealistic realview of the venue spaces. This allows prospective clients to virtually tour a venue and its event spaces, view life-like table layouts and furniture arrangements, getting a realfeel for the venue without being there in-person to make decisions. This virtual capability also allows venues to show clients proposed layouts with ability to make changes in real-time.
Engage Customers Remotely
Having the ability to engage customers remotely is very important. With virtual capabilities, venues can:
Allow customers to engage with different layouts virtually on website via widget

Drive more traffic and increase conversions

Provide interactive tours from anywhere in the world. No need for onsite or in-person meetings to book new business!
Website Widget
The widget helps to drive more traffic to their venue spaces, providing an interactive and informative tool for clients, opening the door to more business, and ability to sell their venue and book more events remotely. It's more important than ever to have options for virtually event booking. Using Allseated makes it easy.
Allseated Connect 
The Allseated Connect is the first virtual meeting platform that brings the entire event team together for interactive onsite tours. The Connect allows vendor teams (and clients) to virtually meet within the event space to explore the layout (with access via a tablet, laptop, desktop, or VR headset) from anywhere in the world, eliminating the need for in-person site inspections and walkthroughs.
Virtual Meetings – no longer need to be onsite

Training of remote people

On-site inspection

Remote sales

Operational efficiency

Floorplan collaboration

Visual Communication
Close More Business Remotely
The use of Allseated Vision and event planning software will help event professionals to close more business virtually and reach new markets without having to meet in person. As forward thinkers using intuitive technology, the ability to work with vendor teams and clients virtually opens up opportunities and increases sales quicker and more often than ever before.
With enhanced visualization and features that allow you to stand out from the competition, event pros can create layouts and suggest floorplans to clients during the design and planning stages. This added benefit can sell a client on an idea through the enhanced visualization available to them when collaborating within Allseated.
To learn more about how Allseated's event planning software benefits your business, contact us for a demo.
FAQ