Allseated continues to transform the wedding industry from paper-and-pencil to an all-digital platform by providing the digital tools necessary for creating a wedding reception table layout with ease. Using to-scale 3D wedding reception layout tools and extensive furniture library, Allseated removes all of the uncertainty that often surrounds designing a wedding reception table layout. 
Allseated OPs offers wedding layout software which has many collaborative planning benefits that are critical when planning a wedding including guest list management, physical distance tool, seating charts, 3D floorplan viewing, virtual walkthroughs, timelines, and much more.
When creating your wedding reception table layout using Allseated's wedding floorplan maker, all floorplans are designed to-scale. Every table and item in our library has also been scaled to its exact listed dimension. We've taken all of the guesswork out of wondering whether everything will actually fit in your space on the day-of of the wedding!
With all wedding floorplans designed to scale in 2D with the ability to view in 3D, event professionals love collaborating within Allseated to create layouts. It is very easy to customize details and most importantly, ensure accuracy.
In order to easily design a wedding floorplan layout with seating chart, there are steps to take prior to getting started.
Establish Wedding Guest List
Before thinking about wedding venue design and layout, create the guest list first. Creating the wedding guest list is the first step in planning a wedding. Establishing the event guest list during the initial phase of planning is one of the most important aspects of creating a seamless, more efficient process. 
Allseated's state of the art guest list tool increases organization and operational efficiency. The guest list is an added value to clients, allowing users to do the following:
Keep an accurate count and list of all invited guests in one place.

List mailing information

Group guests into categories (such as friends, family, colleagues) for even more organization.

Keep notes

Track RSVP's

Assign meal preferences for each guest, preventing the chance for error.

Specify guests for multiple events such as wedding-related events (bridal showers, rehearsal dinners, and day-after wedding brunches).

Arrange seating charts directly from the guest list.

Generate reports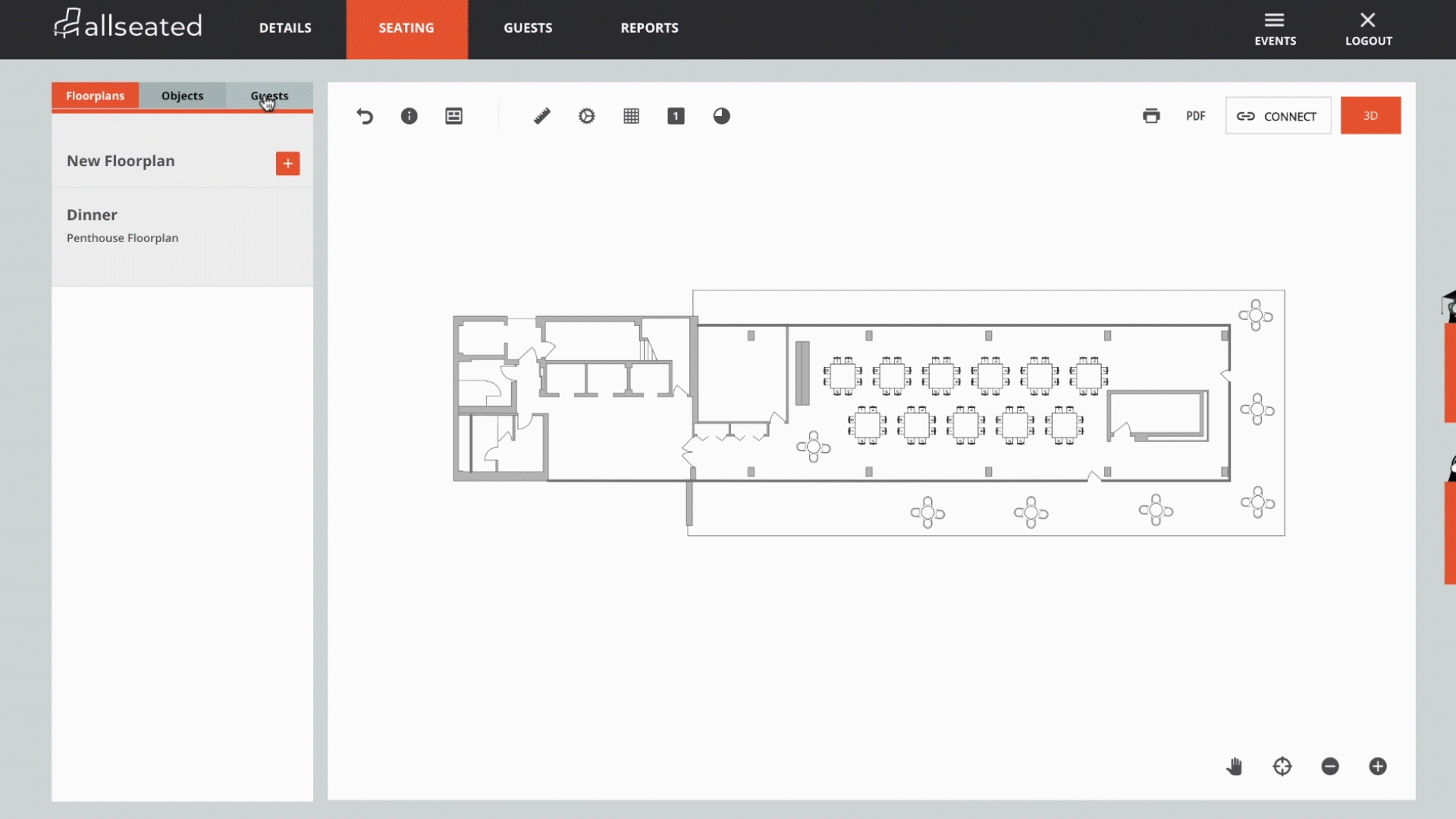 Wedding Floorplans and Seating Layouts
Did you know that one in every ten events in America is created in the Allseated platform? As such, most venues already have their event floorplan templates uploaded into the Allseated wedding floorplan maker platform. If someone else held an event at the same venue and used Allseated, the floorplan is stored and ready to be used by you! If you have any changes to the existing event floorplan, we can accommodate you.
If the floorplan template isn't already in Allseated, there are three main details we need from you to upload your floorplan:
The name and address of venue

Dimensions of the event space

Perimeter walls of the event space
We require the name and address of the venue so we can keep track of it and thus give you access to it. We also search the address in our database before building your floorplan to ensure the venue is not already in Allseated.
We need the dimensions of the event space in order to get the event floorplan built to-scale. And, we need perimeter walls of the space because that shows us the parameters of the dimensions and allows us to scale the floorplan.
Let's say you have the map of the event floorplan, You can upload your floorplan from within your Allseated account using the Floorplans Wizard. We take your event floorplans and then scale them, remove the tables and other movable objects, and convert them into a file type that can be viewed in 2D and 3D.
Once you upload the floorplan, the process of building your floorplan using the wedding floorplan maker takes 24-72 hours depending on which package you selected during the upload process. Just hang tight and we will email you again once it's ready!
Having an Outdoor Event?
Outdoor events can have to-scale layouts too! Allseated can create outdoor floorplans to-scale. We can work with Google Maps screen shots or *overhead* photographs as long as they have at least one accurate dimension included. We can also work with hand drawn diagrams but please be aware that if the drawing itself isn't to scale, we need the area dimensions in order to produce an accurate diagram! You can upload your outdoor floorplan using the Floorplan Wizard.
Floorplan Design Features 
There are many features available to users when designing wedding floorplans.
Using Allseated to design a wedding floorplan you can: 
Select your tables, chairs, objects, and furniture

Customize spacing

Join tables and/or knock off chairs

Include spacing for dance floors and entertainment areas

Mark exits within the layout

List any planning details and/or notes directly within the floorplan

Save favorite objects and templates for future layouts

Create custom groups and save to favorites

Upload files (including JPG, PNG, PDF) to floorplan
Allseated Physical Distance Tool
Allseated has launched a revolutionary new technology that enables the creation of social distance floorplans providing the Wedding and Events Industries with a path to safely reopen as COVID-19 restrictions are eased. This physical distance tool for wedding floorplans allows planners, venues and other event stakeholders to plan wedding layouts incorporating new social-distancing guidelines, and dynamically ascertain new room capacities, ingress and egress, and foodservice protocols while ensuring the safety of event guests and staff as paramount. 
With Allseated's Physical Distancing Tool, you can:
Design wedding floorplans with guest and staff safety at forefront

Create layouts to meet distancing guidelines to run a safe distance event.

Visualize the event floorplan with distancing in place.

Better understand how new guidelines will affect capacity.
Seating Charts
Once RSVP's are received and floorplan layout is created, it's easy to create a wedding seating chart. The seating tab within your event provides you with access to your floorplans and guest list. Seat guests within the floorplan layout by selecting guests from the guest list and placing them at the desired tables. It's simple and efficient to select a guest, then click on a specific table in the floorplan, to easily seat the guest. When creating your event or wedding table seating chart, you may wish to seat guests at specific seats at specific tables. Allseated offers you the option to do this by first placing them at a table, clicking that table, and assigning the guest to their specific seat.
3D Floorplan Viewing
A major benefit to designing wedding floorplans online using Allseated's 3D event floorplan software is the ability to view floorplans in 2D and 3D. At any time during the wedding floorplan and seating chart design process, easily, it's easy to switch from 2D viewing to 3D viewing to take a virtual walkthrough of the layout. The 3D viewing options include Bird's Eye viewing o which allows you to see your event floorplan in 3D from an above view. It's also possible to virtually walk through the online floorplan layout in 3D via 1st Person View as if you were taking a virtual walkthrough of your event floorplan layout. The many varieties of 3D floorplan viewing options help to ensure that you're 100% satisfied with the layout during the design process. This makes the day of the event seamless, accurate, and in line with your event vision.
3D Floorplan Designer Tools
Allseated's 3D floorplan design software for events includes designer tools that provide enhanced visualization for tabletop and buffet displays to-scale within the wedding seating chart and wedding floorplans. The designer tool options include place settings, flowers, centerpieces, linens, and buffet pieces, with many more objects to come.
The designer tools offer enhanced visualization and accuracy, making the collaboration process for vendors and clients much more efficient. Florists, rental companies, and event designers use the designer tools along with clients to collaborate efficiently and accurately to design the best tabletop layouts for an event.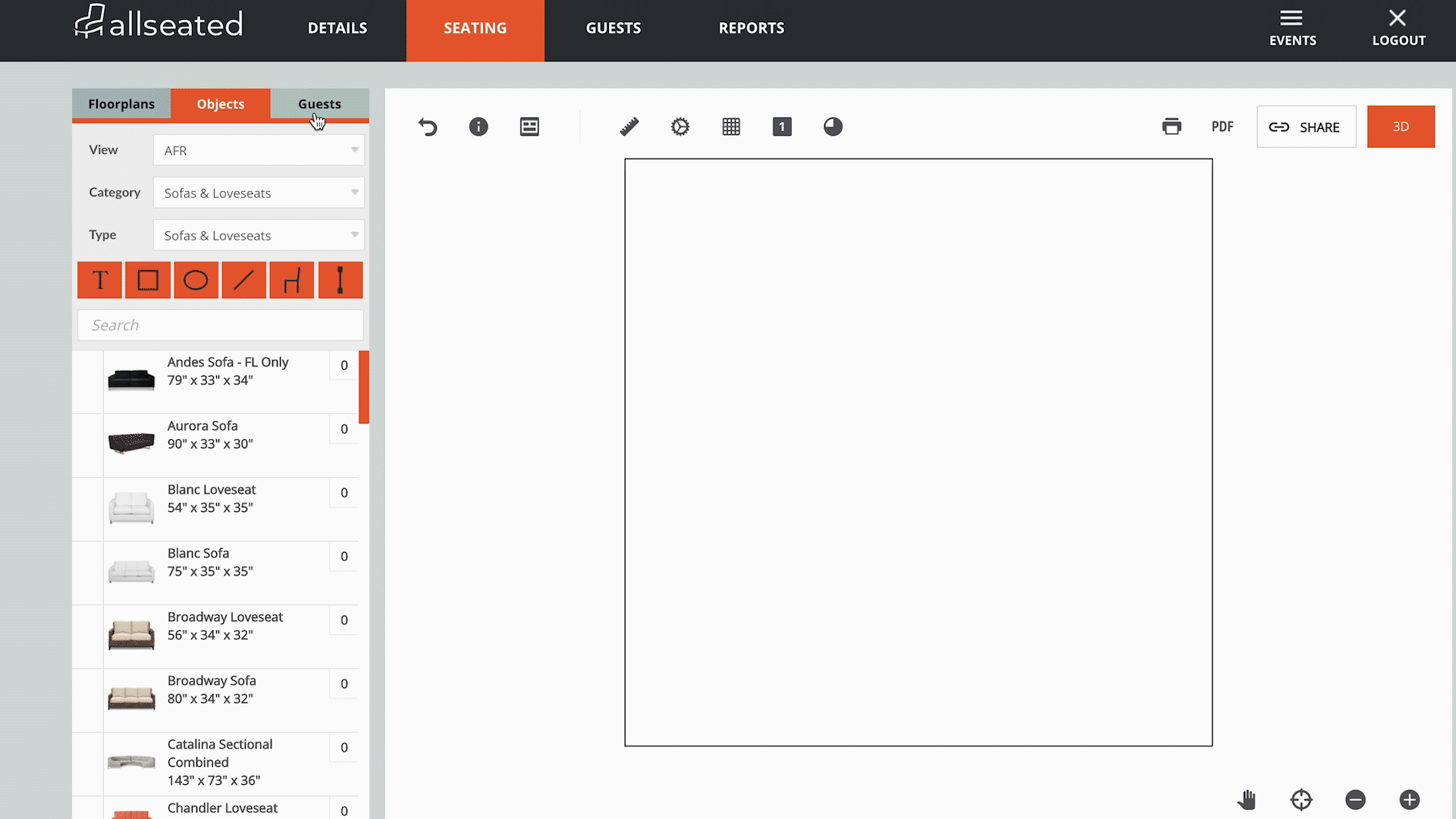 Generate Reports
Using the reports feature, the floorplan and seating arrangements can be generated as a PDF or Excel file which can be useful to the vendor team during set-up.
Generating a report of your floorplan layout will provide the staff at your venue all of the details of your set up so that they can visualize the wedding reception table layout and understand exactly how the room should be arranged. The seating chart report will assist the staff in placing the correct number of chairs at each table and show them how to properly number the tables.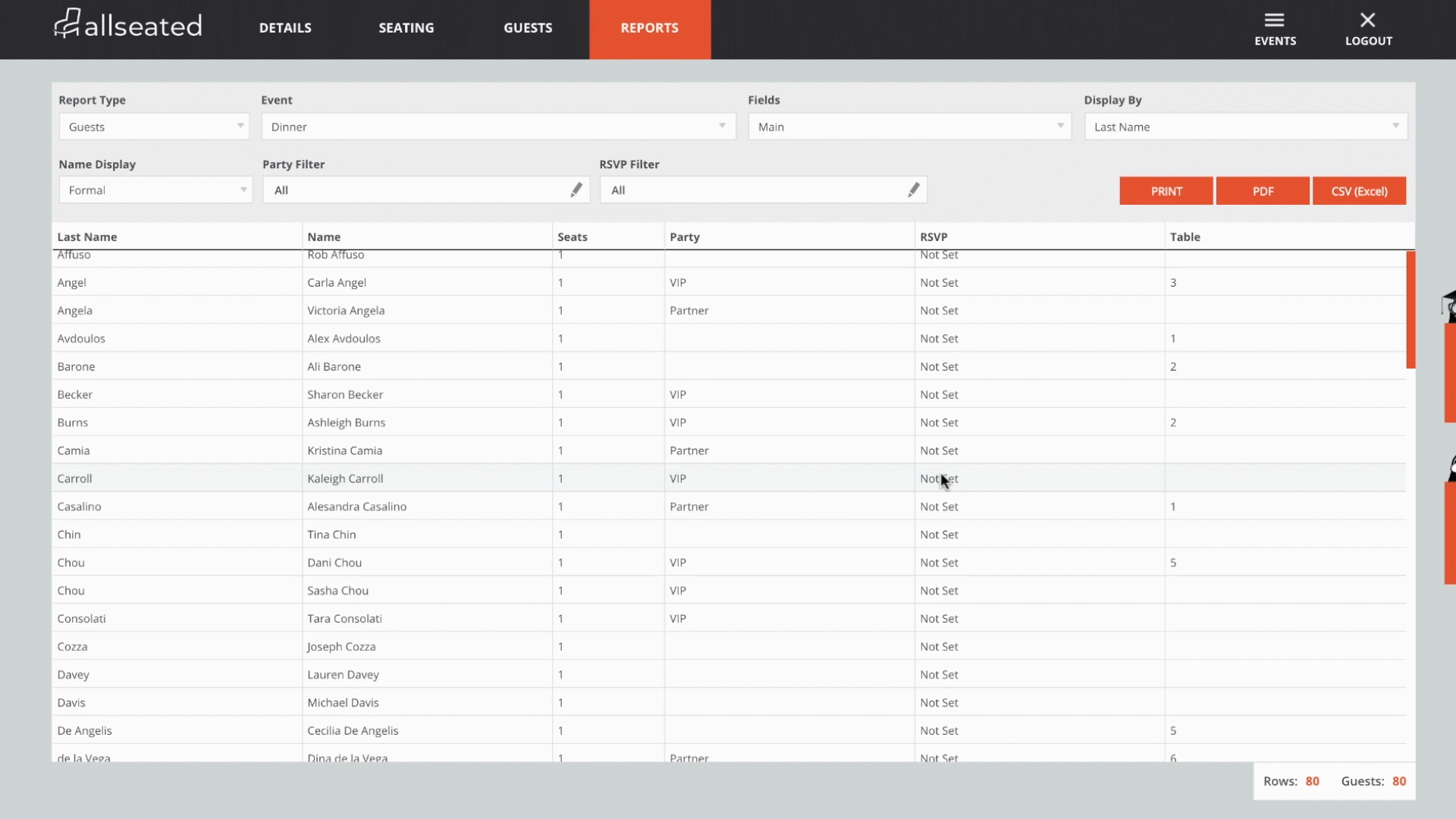 Create and Manage Timelines
Allseated Ops includes a timeline feature which offers the ability to build multiple timelines for weddings and wedding related events. For example, you can create a timeline for your wedding rehearsal and dinner, a wedding day timeline for your wedding day appointments while also creating a timeline for your vendors. With everything updated in real-time, having these timelines will keep everyone.
Allseated is Collaborative
Allseated Ops and the tools included provide for easy collaboration. Wedding couples can Invite their entourage into the event for added assistance on designing the wedding reception layout and for help on where to  seat guests. Vendors can also be invited into the event. Venue contacts can assist you with suggested wedding venue design layouts and the inclusion of the rest of your vendors helps to keep everyone operating on the same page and up-to-date on details.
Allseated Vision
Venues using Allseated Vision can offer virtual tours that virtually showcase a venue's event space(s) in a photorealistic RealView across multiple platforms, including desktop, tablet, mobile, and Virtual Reality (VR) headset. These virtual tour options provide enhanced interactive visualization for client experience and the ability to close more business by virtually transporting clients to their event space no matter where they are in the world.
Venues using Allseated Vision can offer clients a fully immersive 360-degree experience of a venue space. This allows prospective clients to virtually tour a venue and its event spaces, view life-like table layouts and furniture arrangements, getting a realfeel for the venue without being there in-person to make decisions. This virtual capability also allows venues to show clients proposed layouts with ability to make changes in real-time.
FAQ
Allseated's wedding planning platform offers the online collaborative tools needed to easily design floorplans, arrange seating, manage guest lists and timelines, generate reports, and more.
Yes, using a wedding planning platform like Allseated will assist in organizing tasks and give you the tools needed to design floorplan layouts, arrange seating charts, view in both 2D and 3D, manage guests lists, timelines, generate reports, and much more.
Yes, Allseated's wedding planning platform gives you the tools needed to easily design wedding floorplans to-scale along with arrange the seating chart.